Kasuga Mine
Kasuga-Mitsuka, Ibigawa city, Ibi county, Gifu pref., Japan
Occurrence
Dolomite skarn deposit formed in the Permian Guadalupian (270 Ma) dolomite-limestone block of the Early Jurassic (180 Ma) Funafuseyama Unit of the Tamba-Mino-Asho accretionary complex. The dolomite-limestone block has been subjected to contact metamorphism by the Late Cretaceous (96 Ma) Kaizukiyama Granite. The Kaizukiyama Granite is S-type (Ilmenite-series). Approximately 1 km apart from the Kaizukiyama Granite, the heat source. Ages of sedimentary rocks were determined by radiolarians, and granite by K-Ar radiometric dating of biotite and by Rb-Sr whole rock isochron age.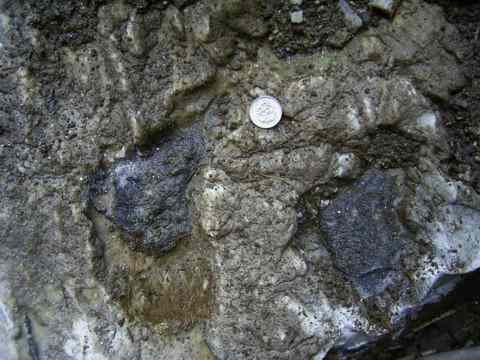 Outcrop of dolomite skarn in the Funafuseyama Unit. The white host is marble, and black nodules are aggregates of Mg-rich minerals such as phlogopite, spinel, and clinohumite. Nodules have higher weathering resistibity than the host, and protruded as shown in this photograph.
Reported Minerals
Chalcopyrite
Pyrite
Pyrrhotite
Sphalerite
Molybdenite
Calcite
Dolomite
Geikielite
Rutile
Spinel
Titanite(Sphene)
Forsterite
Clinohumite
Apatite
Almandine
Grossular
Allanite
Clinozoisite
Dravite
Cordierite
Andalusite
Scapolite
Diopside
Rhodonite
Apophyllite
Bustamite
Sepiolite
Palygorskite
Pargasite
Tremolite
Hastingsite
Magnesiosadanagaite
Parawollastonite
Aspidolite
Serpentine
Talc
Stilbite
Laumontite
Mineral Assemblages
Dolomite - Phlogopite - Clinohumite - Spinel - Geikielite - Rutile
Hornfels(Host) - Hastingsite
Dolomite - Forsterite
Calcite - Diopside - Wollastonite - Grossular
Localities
Related Occurrences
Copyright (c) 2013 NariNari, All Rights Reserved.