Myoho Mine
Shimobe, Minobu city, Minami-Koma county, Yamanashi pref., Japan
Occurrence
Sediment-hosted copper deposit (Shallow-marine)
Sulfides such as chalcocite and djurleite are disseminated in the middle Miocene (14 Ma) Kanzaka mudstone member at the bottom of the Ichinose formation, Nishi-Yatsushiro group. Basalt and andesite of the Nishi-Yatsushiro group are tholeiitic or alkaline. Secondary minerals of Cu are formed with zeolite by Prehnite-Pumpellyite facies regional metamorphism. The Nishi-Yatsushiro group can be interpreted as sediments at the back-arc basin of the old Izu-Ogasawara arc. Ages of sedimentary rocks were determined by radiolarians.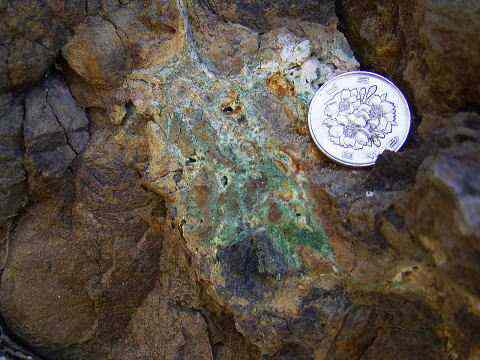 Outcrop of the oxidation zone of a sediment-hosted Cu deposit in mudstone of the Kanzaka mudstone member, Ichinose formation. Cu-bearing minerals were scattered in brown mudstone. The surface of this outcrop exhibits the onion structure by weathering. The green parts are composed of malachite and brochantite.
Reported Minerals
Djurleite
Bornite
Calcite
Barite
Chrysocolla
Allophane-Cu
Stilbite
Heulandit
Mineral Assemblages
Localities
Related Occurrences
Copyright (c) 2015 NariNari, All Rights Reserved.