Rammelsberg Mine
Rammelsberg, Goslar city, Lower Saxony county, Germany
Occurrence
Sediment-hosted copper deposit (Shallow-marine)
Cu-Pb enriched sediment-hosted massive sulfide deposit formed harmonically with sedimental rocks in Middle Devonian (approx. 390 Ma).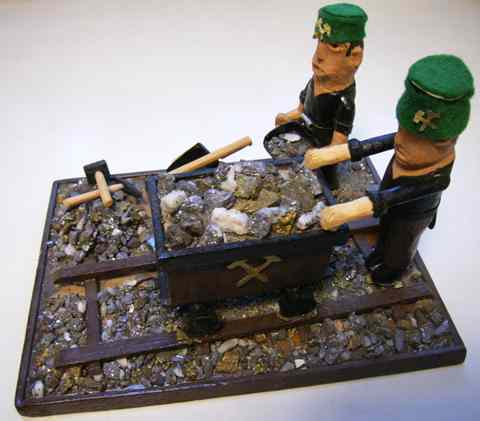 A souvenir of the mine. Cute wooden dolls are unique and famous ones in this area, Saxony district in Germany. Various ore minerals were used for the decoration: Gold ones are chalcopyrite, gray ones are sphalerite. White ones are quartz, which is associated with yellowish brown ankerite.
Reported Minerals
Chalcopyrite
Sphalerite
Pyrite
Pyrrhotite
Tetrahedrite
Galena
Arsenopyrite
Dolomite
Covellite
Calcite
Ankerite
Barite
Mineral Assemblages
Calcite(Gangue) - Sphalerite - Chalcopyrite - Pyrite - Ankerite
Details of the mine
One of the best known mines in Europe. A world heritage.
Localities
Related Occurrences
Copyright (c) 2014 NariNari, All Rights Reserved.