Tillandsia capitata 'Red'
- Flowers -
Photographs
July 13th, 2022
The flowering period was 19 days in July. Purple tube flowers with 3 petals whose tips are reflexing outside. Tips and bases of the petals are white. 6 stamens and a white pistil are sticked out of petals. The tip of pistil is divided into three. 1 - 2 flowers bloom in a day, not depending on the position. A flower bracts bears 2 tube flowers at intervals of 8 - 13 days. A flower blooms in the morning and withered in the next morning. In other words, a flower bloomed on all flower bracts, and at intervals of 6 days, another flower bloomed on all flower bracts again. Petals were 30 mm long. Stamens and the pistil were protruded from the tip of petals 8 mm long and 8 mm long, respectively.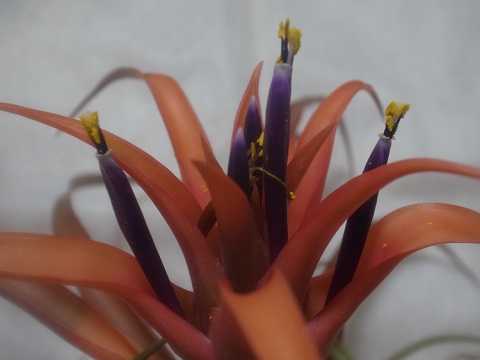 July 16th, 2022
Side view of the flowers. Note that there are 2 flowers which will open tomorrow.
Copyright (c) 2022 NariNari, All Rights Reserved.
TrekGEO www.trekgeo.net/indexe.htm