Nekoyama mine
Nagano, Manno city, Nakatado county, Kagawa pref., Japan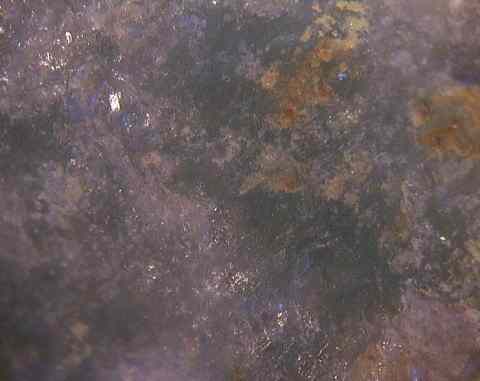 Field of view: 2 mm. Massive pyrophyllite. The group of platy white crystals and massive pale green parts are pyrophyllite. The light brown crusts are limonite.
Recovered from a pyrophyllite deposit formed by pyrophyllitization alteration of granite and associated hornfels in a low-pressure regional metamorphic belt by andesite. Formed in the middle Miocene (13 Ma).
Pyrophyllite from this location was described in 1934.
Other localities
Nekoyama (Pyrophyllitization, Platy)
Yoji Mine (Pyrophyllitization, Platy)
Copyright (c) 2017 NariNari, All Rights Reserved.