Kurohai village, Choshi city, Chiba pref., Japan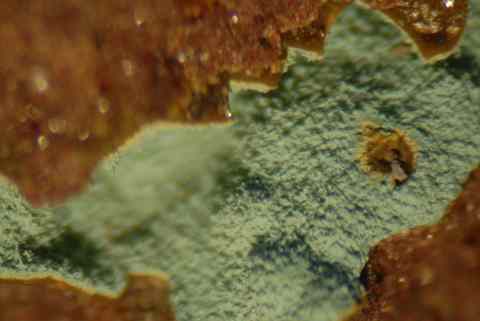 Field of view: 10 mm. Ceradonite in vesicules. The fine grayish-green crystals are celadonite. The massive brown host is weathered bronzite andesite, and fine anorthite with perfect cleavage is scattered.
Recovered from vesicules of a high-Mg andesite lava. Formed in the early Miocene (22 Ma).
Other localities
Choshi (Andesite, Crust)
Naka-Kawabe (Andesite, Crust)
Fukaura (Andesite, Vein)
Nanasawa (Andesite, Massive)
Nakadomari (Basalt, Crust)
Copyright (c) 2017 NariNari, All Rights Reserved.