Kiyomizu
Hayato village, Kirishima city, Kagoshima pref., Japan
Occurrence
Vesicules in the Late Pleistocene (60 ka) Kiyomizu Rhyolite. The Kiyomizu Rhyolite was erupted from the Aira Caldera. The Kiyomizu Rhyolite overlies the Kajiki formation, the lowest member of the Middle Pleistocene (0.6 Ma) Kokubu Group. The age of rhyolite was determined by K-Ar radiometric dating and radiocarbon dating.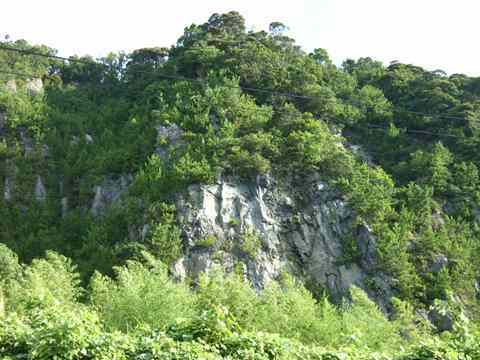 Outcrop of the Kiyomizu Rhyolite. The cliff is a caldera wall of the Aira Caldera, and is composed of rhyolite lava beds. The vertical structures are joints.
Reported Minerals
Osumilite
Cristobalite
Fayalite
Mineral Assemblages
Cristobalite - Osumilite
Fayalite
Localities
Related Occurrences
Copyright (c) 2013 NariNari, All Rights Reserved.