Niikoba
Hiikoba, Hizen village, Karatsu city, Saga pref., Japan
Occurrence
Minerals in vesicules of the late Pliocene (3 Ma) alkali basalt, a member of the Higashi-Matsuura Basalt erupted on the ground surface. The type locality of Kimuraite-Y, Kozoite-Nd, Kozoite-La, and Lanthanite-Nd.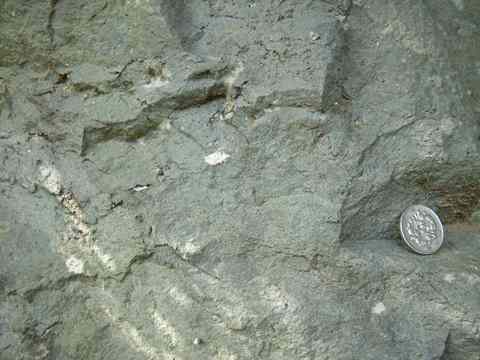 Outcrop of alkali basalt of the Higashi-Matsuura Basalt. The massive pale gray host is alkali basalt. A part of vesicules are filled with white calcite and aragonite with minor amount of Nd- and La-bearing minerals.
Reported Minerals
Kimuraite-Y
Kozoite-Nd
Kozoite-La
Lanthanite-Nd
Calcite
Aragonite
Lokkaite-Y
Hyalite
Mineral Assemblages
Localities
Related Occurrences
Copyright (c) 2013 NariNari, All Rights Reserved.