Nagahama
Nagahama, Fuji-Kawguchiko city, Minami-Tsuru county, Yamanashi pref., Japan
Occurrence
Phenocryst in the dacite dike intruded in the Takahagi Basalt of the middle Miocene (14 Ma) Ashikawa formation, the Nishi-Yatsushiro group. The Takahagi Basalt has been subjected to Prehnite-Pumpellyite facies metamorphism by the Ashikawa quartz diorite in the middle Miocene (12 Ma). The age of the dacite dike has not been know but it may be associated with the Ashikawa quartz diorite. The Ashikawa quartz diorite is I-type (Magnetite-series). Approximately 3 km apart from quartz diorite, the heat source. Ages of sedimentary rocks were determined by microfossils, quartz diorite by K-Ar radiometric dating of biotite and hornblende.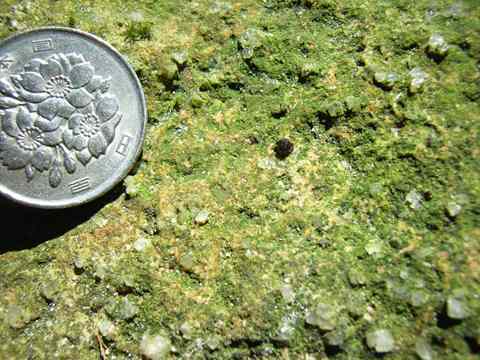 Outcrop of dacite dike intruded in basaltic tuff of the Takahagi Basalt. The black trapezohedral crystal at the center is almandine. The tabular white crystals in the host dacite are plagioclase. The outcrop surface is covered with green moss. Common mafic minerals such as pyroxene and amphibole are not included in this dacite.
Reported Minerals
Mineral Assemblages
Dacite(Host) - Plagioclase - Almandine
Localities
Related Occurrences
Copyright (c) 2013 NariNari, All Rights Reserved.