Kodomari
Kodomari, Nakadomari city, Kita-Tsugaru county, Aomori pref., Japan
Occurrence
Neutral metasomatic rocks of Interstratified mineral zone
Calcite veins in andesitic tuff in the early - middle Miocene (16.5 - 15.3 Ma) Fuyube Formation. These veins were probably formed by the upper bed, early - late Miocene (17.0 - 10.0 Ma) Tappi Volcanic Rocks. The Tappi Volcanic Rocks distributes less than 100 apart from this locality.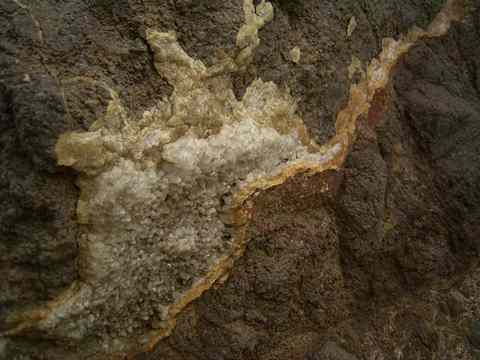 Outcrop of andesitic tuff of Fuyube Formation. The brown host is andesitic tuff. The white vein is a calcite vein and is approximately 30 mm thick. Scalenohedral calcite crystals are in the open space of the vein as seen at the lower left of the photograph. Calcite near the boundary between the white calcite vein and the host is brown.
Reported Minerals
Mineral Assemblages
Localities
Related Occurrences
Copyright (c) 2013 NariNari, All Rights Reserved.