Mount Asama
Nagakura, Karuizawa city, Kita-Saku county, Nagano pref., Japan
"No Trespassing" sign may be erected on the locality introduced in books depending on the activity of Mount Asama.
Occurrence
Sanidinite facies contact metamorphic rocks
Accidental lithic fragments subjected to sanidinite facies metamorphism by magma. The fragments were erupted from the crator of the Maekakeyama peak of Mount Asama in 1783 with andesitic volcanic ash, andesitic pumice, scoria. The protolith of fragments is bedrocks of Mount Asama. Mount Asama is an active volcano, and has been active since the early Pleistocene (0.9 Ma). The age of eruption was determined by ancient documents.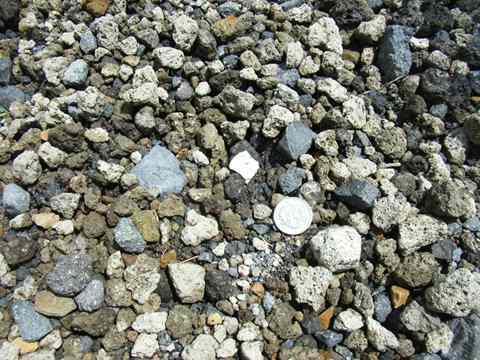 Volcanic lapilli from the crator of the Maekake peak of Asama Volcano. The white fragment at the center is a cordierite-bearing accidental lithic fragment. The white matrix of the fragment is composed of tridymite and anorthite, and blue dots are cordierite. The porous white lapilli are andesitic pumice, and black lapilli are scoria. Massive gray lapilli are fragments of andesitic lava, and some of them contains white grains of anorthite. Mullite and sillimanite were formed in accidental lithic fragments by sanidinite facies metamorphism.
Reported Minerals
Cordierite
Mullite
Sillimanite
Anorthite
Mineral Assemblages
Quartz - Cordierite
Mullite - Sillimanite
Anorthite (in Andesite)
History
1870's: Cordierite was collected and described.
Localities
Related Occurrences
Copyright (c) 2013 NariNari, All Rights Reserved.