Tillandsia festucoides
- Flowers -
Photographs
May 18, 2018
The blooming period is a week between June and July. Pale purple tube flowers with 3 petals whose tips are reflexed outside. 6 stamens and a white pistil are sticked out of petals. Stamens have a striped purple lines laterally. A flower blooms for 2 days. Flowers bloom from the bottom side of the inflorescence. The length of the flower petal is 2.5 cm.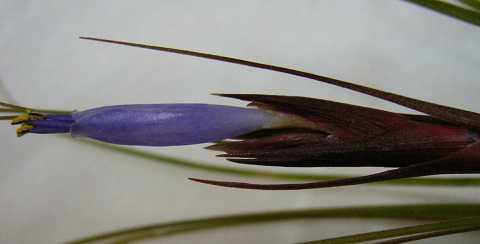 July 2nd, 2006

The flower fo the foliage cultivated first.

Copyright (c) 2019 NariNari, All Rights Reserved.