Boundary between cool-temperate and subarctic climate
Index plants
Yezo spruces (Picea jezoensis), Japanese lime (Tilia japonica)
Averate temperature
Cooler average temperature under the conditon of the lowest temperature in the coldest month is more than -3 °C (27 °F) and less than 18 °C (64 °F)
North/South altitude
Western Hokkaido around 40 - 45 ° latitude
Overview
Four seasons in a year. Cool-temperate climate where broad-leaf trees such as Japanese lime and yezo spruces are growing together.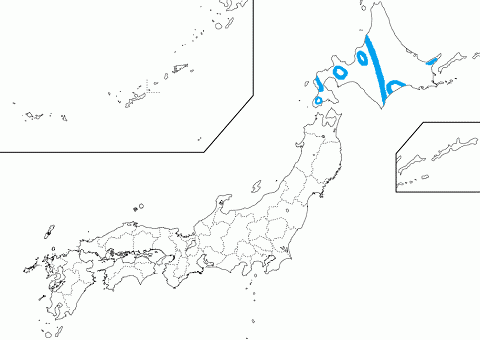 Distribution of boundary of cool-temperate and subarctic climate in modern Japan. It distributes at western Hokkaido.
Flora
Climate (Lateral)
Boundary between cool-temperate and subarctic
Climate (Vertical)
Copyright (c) 2018 NariNari, All Rights Reserved.