Yoshikawa, Shinshiro city, Aichi pref., Japan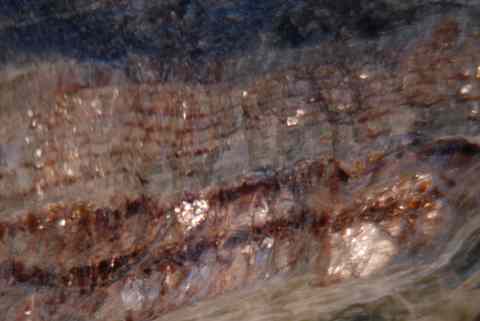 Field of view: 10 mm. Group of pyroaurite. The micaceous pale brown crystals are pyroaurite. The pale green part at the lower right is the host serpentinite. The surface of serpentinite is covered with pyroaurite beds repeatedly. The micaceous crystals of pyroaurite are vertical to the beds.
Recovered from a pyroaurite vein in a meteoric oxidation zone of serpentinite in an accretionary compelx subjected to Pumpellyite-Actinolite facies metamorphism.
Pyroaurite from this location was described in 1973.
Other localities
Yoshikawa Mine (Serpentinite, Micaceous)
Yashio Mine (Serpentinite, Micaceous)
Copyright (c) 2017 NariNari, All Rights Reserved.