Goka Mine
Goka, Higashi-shirakawa city, Kamo county, Gifu pref., Japan
This locality is closed to collecting.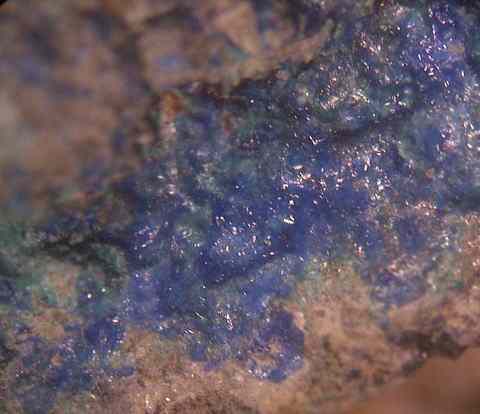 Field of view: 5 mm. Linarite associated with brochantite. The blue part is linarite. The green parts are probably brochantite. The white basement is gangue quartz.

Recovered from an open space of a quartz vein in a meteoric oxidation zone of a moderate-temperature hydrothermal deposit vein associated with granite porphyry, a part of a parallel dike swarm formed at the last stage of a caldera complex intruded in an accretionary complex.

Linarite from this location was described in 1979.

Copyright (c) 2017 NariNari, All Rights Reserved.