Mozumi deposit, Kamioka Mine
Mount Ikeno, Okunoyama, Toyama city, Toyama pref., Japan
This locality is closed to collecting.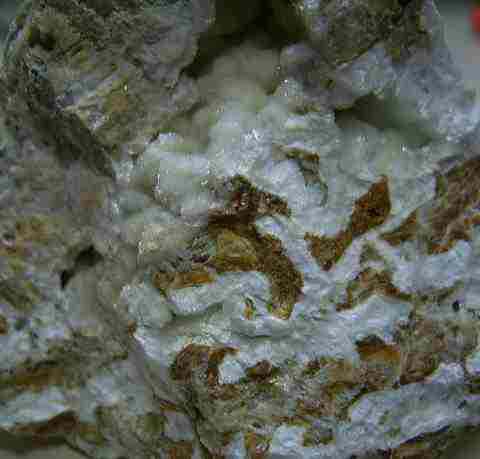 Field of view: 20 mm. Veins of hemimorphite. The white veins are hemimorphite, and tabular crystals are vertical to the vein. There are raidal groups in open spaces. The brown host is limonite.

Recovered from an open space of a hemimorphite vein of a meteoric oxidation zone of a pneumatolytic deposit combined with skarn formed by contact metamorphism of I-type (magnetite-series) granite.

Hemimorphite from this location was described in 1892.

Copyright (c) 2017 NariNari, All Rights Reserved.