Zao-Onsen, Yamagata city, Yamagata pref., Japan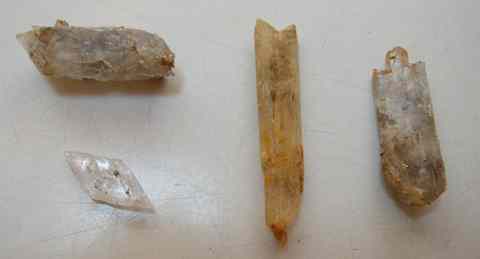 Length of right crystal: 20 mm. Various gypsum crystals. The two crystals at the left are single crystals at the same crystal orientation. The upper left crystal is elongated vertically to the photograph. The crystal at the center is a swallow-tail twin. The crystal at the right is a two-fold swallow-tail twin, and it looks like an arrowhead by the step of V shape termination. The grayish-green grains in crystals are clay particles of the host. The pale brown color of the center crystal is due to a limonite crust.

Recovered from a smectitization deposit formed by acidic hydrothermal alteration of basalt.

Gypsum from this location was described in 2008.

Copyright (c) 2017 NariNari, All Rights Reserved.