Sukayu hot spring
Arakawa, Aomori city, Aomori pref., Japan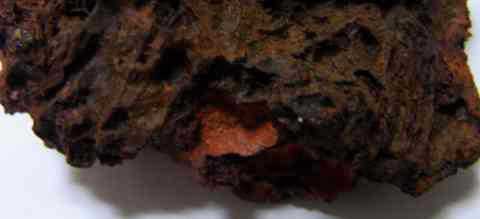 Length: 40 mm. Goethite associated with hematite. Black parts are goethite. Goethite deposits layers and forms a porous aggregates. The red powdery parts in the vugs are hematite.

Recovered from a goethite-jarosite deposit formed by bacterial Fe biomineralization from Fe-Sulfate spring water. Formed in less than a million years.

Copyright (c) 2020 NariNari, All Rights Reserved.