Mount Hanazono
Hanazono, Hanakawa village, Kita-Ibaraki city, Ibaraki pref., Japan
Occurrence
Pegmatite associated with granite of the Late Cretaceous (100 Ma) Tabito Pluton intruded in gneiss of the Takanuki metamorphic rocks, a member of the metamorphosed Early Jurassic (180 Ma) accretionary complex. The Takanuki metamorphic rocks have been subjected to Amphibolite to Granulite facies metamorphism by the medium-P Takanuki metamorphism in the Early Cretaceous (110 Ma). The granite of Tabito Pluton is S-type (Ilmenite-series), and its origin is considered as migmatite formed by partial melting of the Takanuki metamorphic rocks. Ages of sedimentary rocks were determined by radiolarians, the Abukuma metamorphism by U-Pb SHRIMP dating of zircon, and the Tabito pluton by K-Ar radiometric dating of hornblende and biotite.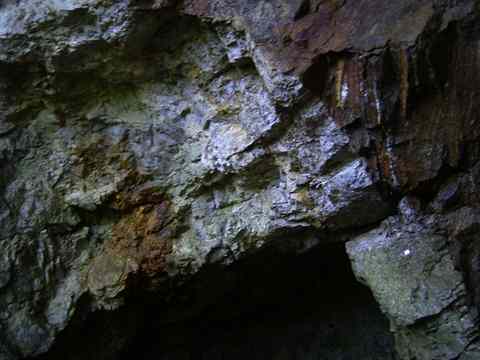 Outcrop at the boundary between biotite gneiss of the Takenuki Metamorphic Rocks and granitic pegmatite of the Tabito Pluton. The black bedded part at the right end is biotite gneiss, the wall rock of this pegmatite vein. The white parts are pegmatite veins. The grain size of the pegmatite vein near the wall rock is small but the grain size at the center of the vein is more than 100 mm. Note that the pegmatite vein traverses the shistosity of the host biotite gneiss. The brown part at the left is limonite crust on the surface. The horrow at the lower half of this photograph was mined for quartz. The scale coin is at the lower right.
Reported Minerals
Andalusite
Corundum
Almandine
Ilmenite
Muscovite
Mineral Assemblages
Quartz - Feldspar - Muscovite - Andalusite - Corundum
Quartz - Feldspar - Muscovite - Almandine
Localities
Related Occurrences
Copyright (c) 2014 NariNari, All Rights Reserved.