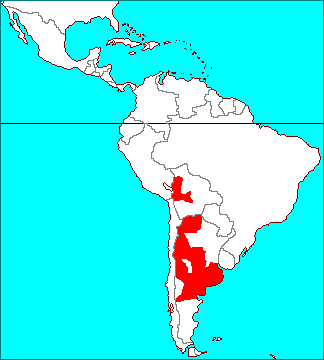 Distributed in Bolivia (La Paz, Cochabamba) and Argentina (Buenos Aires, Catamarca, Córdoba, Jujuy, La Pampa, La Rioja, Mendoza, Río Negro, Salta, San Juan) at altitudes from 0 to 3,100 m.
Epiphytic, occasionally saxicolous.
Tillandsia pedicellata
Tillandsia (Diaphoranthema) pedicellata (Mez) A. Castellanos (1945)
[ Etymology ] pedicel in Latin (pedicelleted, short inflorescence)
[ Classification ] genus Tillandsia - subgenus Diaphoranthema
[ Synonyms ]
Tillandsia coarctata Gillies ex Baker (1878)
Tillandsia coarctata Gillies ex Baker (1878) var. pedicellata Mez (1896)
Photographs
Features
Most of plants sold as T. pedicellata are T. tricholepis or T. minutiflora (T. bryoides). The flowers of T. pedicellata is deep purple (or brown to black) whereas those of T. minutiflora are yellow. The flowers of T. tricholepis are also yellow, and 1 - 3 flowers are at the top of long inflorescences.
[ Blooming ] ?
[ Flower ] Deep purple, Brown, Black
[ Fregrance ] Give off all days?
[ Blooming size ] ?
Cultivaton tips
Informations summarized here are based on our experiences, and TrekGEO does not guarantee the results by cultivating in the same or similar conditions described here. Even a species of Tillandsia differs substantially between individuals, and is very sensitive in changes of environments. Applicatons of any idea inspired by this site should be at your own risks.
Cultivation Log
Jan. 2020 Good condition.
Copyright (c) 2020 NariNari, All Rights Reserved.