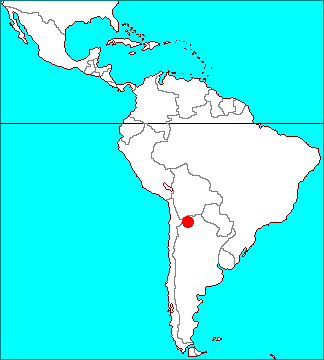 Quebrada de Humahuaca, Purmamarca, Jujuy, Argentina
---
2,350 m elevation
---
Epiphytic
Tillandsia gilliesii
ssp. polysticha
Tillandsia (Diaphoranthema) gilliesii Baker (1878) subsp. polysticha W. Till and L. Hormadnik (1984)
---

[ Etymology ] John Gillies (1792 - 1834), a botanist
[ Etymology ] poly + stichus in Latin (multiple + lined up)

---

The individual leaf grows spirally from the growing point changing directions, whereas leaves of the standard subspecies Tillandsia gilliesii are distichous. Intermediate rosette between distichous and polystichous.
Flowers give off a fragrance in the daytime.

---

[ Small size ] W 40 x H 40 mm
[ Petal ] Pale yellow
[ Bract ] Green
[ Winter bloomer ] January - February
[ Flowering ] for 8 days (max.)
---
Classification
Cultivation
Informations summarized here are based on our experiences, and TrekGEO does not guarantee the results by cultivating in the same or similar conditions described here. Even a species of Tillandsia differs substantially between individuals, and is very sensitive in changes of environments. Applicatons of any idea inspired by this site should be at your own risks.
Grows well.
---
1st Plant
Cultivation condition

---

Nov. 2023 An inflorescence began to grow.

---

Oct. 2022 It keeps growing.

---

July 2021 An offset began to grow at the base of the inflorescence.
Mar. 2021 A seed pod began to grow.
Jan. 2021 It flowered.

---

Nov. 2020 An inflorescence began to grow.
Copyright (c) 2023 NariNari, All Rights Reserved.