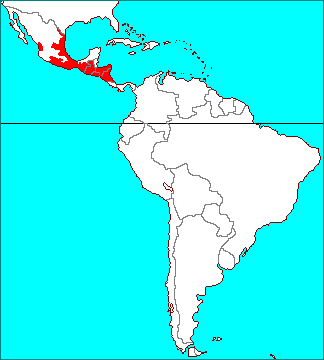 Distributed from Mexico to Nicaragua at altitudes from 450 to 1,700 m.
Tillandsia ionantha 'Escaposa'
Tillandsia (Tillandsia) ionantha Planchon (1854)
[ Etymology ] ion + anthus in Latin (purple + flower)
[ Classification ] genus Tillandsia - subgenus Tillandsia
Photographs
Features
[ Blooming ] ?
[ Flower ] Purple
[ Fregrance ] None
[ Blooming size ] 3 - 5 cm (W) x 5 - 15 cm (H)
Relatively sturdy species comparing to other common species.
Large and long stem species.
Many variations and forms of Tillandsia ionantha are known: Mexico form, Guatemala form, and Colombia form as regional forms; Druid, Escaposa, Fuego, Rubra, Peach, Albino, Zebrina, and Varigata as leaf-form and color variations; var. maxima, var. stricta 'Rosita', var. stricta forma fastigiata, var. vanhyningii as variety species.
Cultivaton tips
Informations summarized here are based on our experiences, and TrekGEO does not guarantee the results by cultivating in the same or similar conditions described here. Even a species of Tillandsia differs substantially between individuals, and is very sensitive in changes of environments. Applicatons of any idea inspired by this site should be at your own risks.
Grows although leaf tips and leaves at the bottom of the foliage tend to die.
Cultivation Log (2nd foliage)
Mar. 2009 It keeps growing.

---

Oct. 2006 Moved to another site. Cultivation condition is almost same as the previous site.
Dec. 2006 Leaf tips turned beautiful pink.

---

Oct. 2005 It keeps growing longer.

---

Dec. 2004 Offsets dispatched from the original foliage.
Aug. 2004 The temperature rises above 30 °C for 40 days, and the highest temperature was over 39 °C.

---

May 2003 3 offsets began to grow around the flower after it bloomed.
Copyright (c) 2019 NariNari, All Rights Reserved.