Goroku
Goroku, Aoba-ku, Sendai city, Miyagi pref., Japan
Occurrence
Crystal lapilli in tuffaceous sandstone of the early Pliocene (5 Ma) Kameoka Formation in the Sendai Group. The Kameoka Formation is sediments in the bay formed during the Pliocene Sea-Level Rise in a cool climate.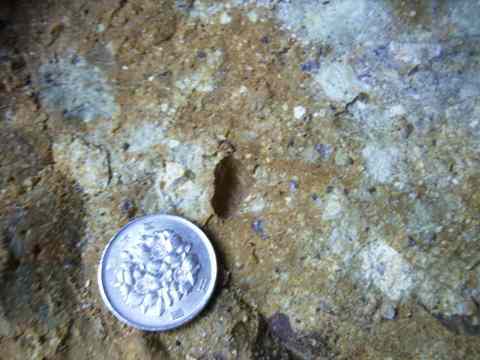 Outcrop of beta-quartz-bearing tuffaceous sandstone of Kameoka Formation. Pale pink grains with a vitreous luster are beta-quartz. Opaque white pebbles are weathered basalt. Clay minerals are abundant in the matrix. Bivalvia fossils are also found in the near locality. Beta-Quartz is included as sand in any part of Kameoka Formation, and large crystals are concentrated here as shown in this photograph.
Reported Minerals
Mineral Assemblages
Tuffaceous sandstone(Host) - Beta-Quartz
Localities
Related Occurrences
Copyright (c) 2017 NariNari, All Rights Reserved.